This journal has announcements about my upcoming novels and stories and the occasional brain-drabble.
Official Blog here
Amazon and Barnes and Noble and just about any online retailer worldwide have all of my paperback novels and ebooks available. Go thee forth and find. :)
Please leave a comment to be added to my friends list.
John Scalzi
Current Mood:

busy

Current Music:

Pirates of the Caribbean soundtrack
rss feed
, reposted here. :)
<3 to everyone!
New post on my
Current Mood:

bouncy
I don't know why Twitter decided to just start shipping my tweets again. Sorry about the spam grrrr *kicks twitter*
Anyway! I've been busy all over the web the past few weeks. Did a blog tour for "Circuit Theory" with Reya Starck which came out on Monday. SORRY for not talking it up more over here. The number of articles I had to do for the tour really slayed me and then I happen to completing a BRAND NEW 30kish novella this week for submission to Riptide and and and... I've been busy. >.<
Some linkies. Go see what I've been up to.
http://kirbycrow.tumblr.com/
(you can find some sexy snippets of my novella "Male City" here, although if I don't stop writing the effing thing it's gonna hit 50k)
Interview at Amara's Place
"Game Worlds as Inspiration" at BitchFactor10
"Your Gender is Not Analog" at Top2Bottom Reviews
"Lover in a Box: Avatar Romance in Virtual Reality" at Guys Like Romance, Too!
"Plausible Reality" at MANtastic Fiction
"Ghost Men and Virtual Lovers" at Smart Girls Love SciFi
Beyond that I've been playing with getting to know Tumblr's dashboard, Tweeting, writing, more writing, playing my Xbox, avoiding the dishes, and falling asleep on the couch. XD
Pick up a copy of "Circuit Theory" over at Riptide
if you've a mind to, and keep watching. I have a LOT of fiction coming out soon!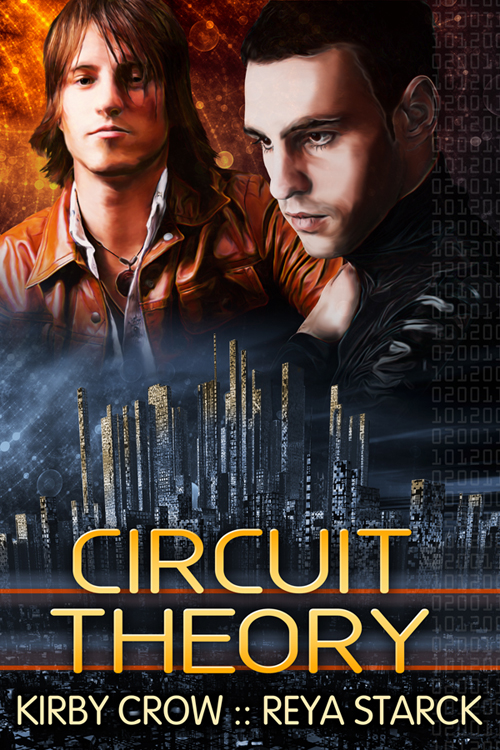 Sitting here waiting for hubby to come home from getting routine blood tests and take me to Waffle House. Waffle House, where hash browns are an art form. XD
"It takes many, many atrocities to kindle the fury of our ever unmoving mother earth. I commend you on having crossed even that line. Now pay for it."

This has been my "keep this on repeat until my ears cry" writing music for the past month. Hey, whatever works, right?


Current Mood:

awake


I've been writing A LOT lately. Signed a new contract. Plan to sign another one next week (if I can ever get this edit done) and there's still more in the future. Summer has shifted from being a time when I never leave my desk to a time of frenetic activity, indoors and outdoors, both mental and physical. My asthma was worse in the past. Now that it's better (knock on wood) I can no longer get out of doing stuff! Bummer! XD

Hey, I'll take work over asthma any day. There's a thousand things I'll take over asthma, including wrestling with alligators and dodging catapults. I'll choose just about anything over asthma.

So anyway... Happy 4th! :)
Because I think it may get annoying for you folks to be treated to a bunch of retweets and one-liners sans context from me. Instead, I think I'll just make an effort to post more often.